2021-2022 Wrestling Team Anticipates High Hopes This Season
Shorians, beware of Lake Shore's wrestling team! Based on opinions from teammates and their coach, the team has great potential since the beginning of the 2021-2022 season that started November 15th.
Stephen Hendershot is the coach of the Lake Shore wrestling team and has been since December of 2019. Hendershot states that the team's strength is, "Their chemistry. They get along very well and there are no arguments," which guarantees a healthy team.
He lists that the biggest team weakness is, "Attendance because the younger team doesn't understand the expectations of being on time."
Aside from this weakness, Hendershot believes that the team so far is, "Not bad," and states, "We are filling up weight classes that I'm excited about with six kids returning and I've found eight more kids, so we are getting close and I'm optimistic about the season." Hendershot's optimism holds the ability to boost the team's confidence tremendously.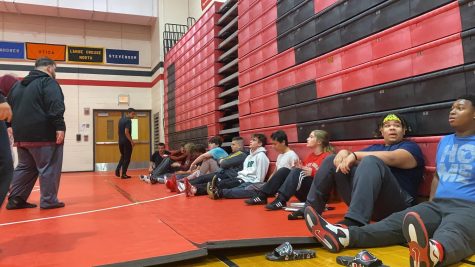 Isobel Wharff, a junior who has been on the team since freshman year, agrees with Coach Hendershot, stating, "I think wrestling is one of the most cooperative teams, it's like a family and even with the new people it feels that way."
While she may be the only girl on the team, she finds herself in closeness with each teammate. Wharff focused her justification for the team's strength based on the many new members. However, she states, "Based on my experience, I think the new people will get there."
A senior member since freshman year named Steven Thompson also agrees, saying, "We have a lot of new guys but I feel like they're catching on really fast."
Although the season has just begun, predictions are being forecasted for meets, leagues, regionals, districts, and states. Thompson states, "we are in a newer wrestling division so we go against a lot of new wrestlers," predicting, "We are going to win the league championship again. I say we lose one meet out of all of them, with multiple kids going to states." Thompson's faith seems very valuable and will be great for the team.
Wharff predicts, "I think individually we are going to do pretty good. For when we have meets I also think we will do pretty good but for some, it will be hard." She shadows Thompson, stating, "But for a lot of our meets there are first-year wrestlers so it will be okay. I think at regionals I'm almost positive I'll place at girls to hopefully place in states," as Wharff is the team's only female representation. She continues, predicting, "For the boys, many will get to regionals and maybe a few will get to states."
The potential of this team from two of their experienced members seems to be in their favor, despite having novice members.
Finally, Hendershot's point of view explains, "My goal is that we win our league again and we continue our success at District Level 10 and at regionals. I expect kids to go to state."

Coach Hendershot wants all Shorians to know that wrestling is, "A serious sport and a fun and excellent way of staying in shape." He continues, "We are always willing to take new people as long as they're serious and currently we are searching for 112 and 150-pound kids."
The team's first meet of the season is on December 8th, 2021, anticipating very promising results from each teammate.