What Is Lake Shore's Favorite Halloween Candy?
With Halloween coming soon, why not talk about the top candies in Lake Shore High School? While Google can give you certain results on the best ones, students at Lake Shore have different opinions.
Students were surveyed for multiple days on their personal favorites. With Google Forms, interviews and Snapchat posts, the polls came to a conclusion.
Taking third place, Lake Shore chose Kit Kat. According to Hershey Land, Kit Kats are "made of three layers of wafer separated and covered by an outer layer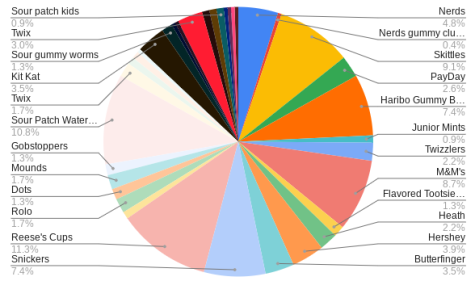 of chocolate." Kit Kats are seemingly very popular among the students here.
Christopher Welch, a senior, says "Kit Kats, you get the nice chocolate with the good wafers and you
get multiple sticks in one pack, so it's a win."
In second place, Sour Patch Kids Watermelons. These candies are watermelon slice-shaped gummies and go from sour to sweet in your mouth.  
An anonymous student at Lake Shore said in justification, "Sour Patch Watermelon, why? Self-explanatory my guy, I mean you got the sourness that dang near burns a hole in your cheek, then you got the sweetness that is just heaven-sent! Anyway, the point is, sour patch watermelon is top tier!" 
Finally, Lake Shore's favorite candy for the 2022-23 school year is…Reese's Peanut Butter Cups! The first-place score was very close, only one more than Sour Patch Kids Watermelons to be exact.
Ava Mechlowitz, a junior at Lake Shore stated, "Peanut butter cups are the best cause the peanut butter and the chocolate go so well together, and cause they aren't like super sweet either." 
Were these the top three candies you were expecting? Well, put in your bets again, because this is Lake Shore's most hated candy!
"Twizzlers. They are in the weird short packages and they taste stale no matter what" An anonymous Lake Shore student stated.
This candy had the most votes for the least favorite candy in all of the school. What will the top and bottom candies be next year?