Lake Shore Students Gear Up For Winter With This New Rule Placed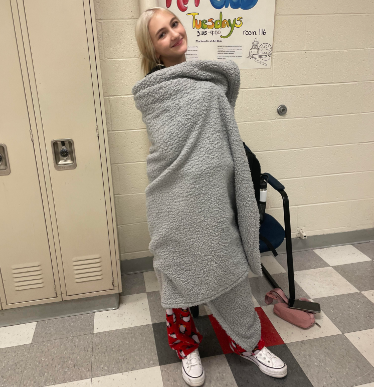 As we enter the last 2 months of the year, we also prepare ourselves for the cold weather that comes along with it. Students at Lake Shore High School have been wearing blankets as an alternative to hoodies and sweatshirts.
With that being said,  Dr. Bross has implemented a new rule which asks students to keep their blankets at home and opt to bundle up instead. The new rule has definitely caused some mixed feelings among students who would prefer to wear a blanket instead of a hoodie or a sweatshirt. 
Ermal Hodo, junior, stated, "definitely this time of year, It's getting too cold out and some people just want to."
In regards to blankets becoming a distraction for students Hodo also stated, "If there are too many yes definitely."
Sheila Titcombe stated, "I haven't been in a situation where it's been unbearably cold at this school like it would be a good option, and not everyone, but some people, I think it would be an overwhelming distraction depending on the students,  and I think it could be problematic."
Many teachers and students have different opinions on if students should be allowed to bring blankets in school and whether or not Dr. Bross made the right decision. 
Heaven Rhodes, stated, "No, it's not the right thing. I think you should be able to."
On the other hand, Michael Spriet says, "yes," as if it was the right decision. 
Although many students may think the decision made by Dr. Bross is not right, her explanation behind it is "So, there was a concern brought to me by several teachers in the building regarding students having blankets in the class not only it being a trip hazard but that also potential for them to conceal things especially dangerous things that's why our handbook way back in the day stated 'students couldn't have jackets on in class because there was a concern about if they are going to have something in there that they shouldn't have on them.'" 
Dr. Bross also added, " If they're expressing what teachers concerns were we didn't really see any reason why students would need to have a blanket in the classroom if they want to wear layers they can wear layers. If they're cold, we can figure out how to turn the heat up but it was causing more problems than good, so I decided students couldn't wear blankets."
All things considered, after Dr. Bross' explanation, we can all agree that she did it for the safety of Lake Shore students and staff in hopes for everyone to comply.