A Look Into The Early College Of Macomb Program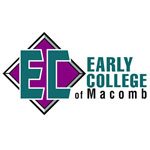 The Early College of Macomb program is a service that coordinates with many high school districts, including Lake Shore. The program gives students an opportunity to take college courses at Macomb whilst in high school. High schoolers will take three college courses per semester in their 11th year, four in their 12th year and anywhere from 5-8 their "13th" year. At the end of the 13th year, students will earn an Associate's Degree, which can be specialized or generalized.
The program also allows high schoolers to have reduced classes at their home high school, three for their 11th year and two for their 12th year. Choosing classes are still affected by the need to fulfill graduation requirements, but students will still be able to participate in all high school activities, as well as graduation. The program also provides resources to improve students' academic capabilities and connect them to future universities or trade schools. 
Mariah Studavent, senior, is a member of the early college program. She is currently working towards becoming an anesthesiologist or a computer engineer, as she is still undecided. She did have a lot to point out about the differences between high school and college. 
Studavent said, "Well, college, you have like all responsibilities, there's not any teachers harping you to do your homework. You have to be disciplined enough on yourself to make sure you get all your work in, to make sure you're on time to all your classes." 
Studavent certainly recognizes the importance of prospective students recognizing that the environment at Macomb is a lot different. She stresses that high schoolers need to have a sense of self-discipline and responsibility to truly succeed in the college environment, especially when considering the experiences students have in high school. Studavent does argue that the program is still beneficial.
She said, "You get your Associate's Degree, like, next year, you can do whatever job you want to early, you can go into trades, you get a headstart on school. I like it." 
The opportunities to start university or trade school earlier are a major benefit that Studavent appreciates, alongside the ability to earn a degree only a year after senior graduation. 
Richelle Gattinger, senior, is another student in the program. She is aiming to become a pharmacist, and already has a university in mind after she finishes her time at Macomb. 
Gattinger said, "There are a couple things that are beneficial to learn in Seminar, like how to make a good resume. The job shadow and internship experiences also help to find which career really suits you." 
Gattinger acknowledges that the mandatory Macomb course, Seminar, does have some benefits, especially when concerning prospective employment. She also appreciates the value of the job shadow, another requirement of the program which gives students a chance to shadow at an employer of their choice each year. She, however, also acknowledges that these benefits come with their own challenges.
Gattinger also said, "The classes are more difficult. I also took a lot of online classes, which are even more difficult." She does admit that college courses are more intensive than high school ones, especially when they are online. However, as more time goes by from the Covid pandemic, more classes are being returned to on-ground availability. 
There are some things that both students would like to change about the program, despite the benefits they acknowledge prior. 
Studavent said, "They should also, like for 11th graders, they should have transportation provided." 
That is a major problem for some prospective students, especially for many who have not or will not get a driver's license. The fact that both campuses for Macomb are in different cities far from each other can also make it difficult for students to get to their classes on time, especially considering the lackluster public transit systems in Warren and Clinton Charter Township. 
Gattinger said, "I would say some of Seminar is boring and feels like it isn't all helpful information. It would be nicer if we just meet less for Seminar or if it was all just more useful things and information." 
Even though Gattinger likes some of the things that are taught in Seminar, she does also admit that there are some issues with the class, particularly the time it  consumes. 
In the end, the Early College of Macomb program does have many benefits, especially for high schoolers looking to get ahead of their education. Even so, there are still changes and improvements to be made.