Outer Banks: Get Rich Or Die Tryin'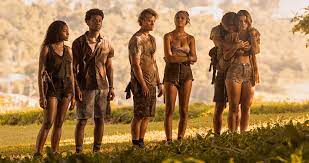 The long awaited season three of Outer Banks aired on Netflix on February 23rd.  Outer banks is a show beloved by many. When the show first aired in 2020, it gained popularity fast, sparking interests of millions and gaining tons of new fans.
Ever since the second season of Outer Banks dropped on July 30, 2021, it has left fans wanting for more. The wait for the new season built up a lot of expectations. The new season delivered, exceeding many expectations.
Season 3 started off with the main 6 Pogues (JJ, Kie, John B, Sarah Cameron, Cleo, and Pope) stranded on an island they self-named as Poguelandia. After the first month of living on the island, a plane flies over the island and rescues them, restarting their journey to find the gold. 
Shortly after the crash, we are introduced to the new antagonist 'Carlos Singh' when he captures Kie. At this point, the characters realize they are up against something much bigger than what they were previously, this event also sets up the plot for the rest of the season and leaves the viewer with more to digest.
All throughout the show, we are met face to face with a lot of ups and downs. For example, Sarah cheating on John B with Topper, John B reuniting with his long-lost father and of course, finally reaching El Dorado. 
The season three plot was really good overall, it answered many questions the viewer had. But, not only were the viewers satisfied, they were also left on a cliffhanger that hints at another season coming out. Viewers are already very excited for the show's future, but who knows what the next will hold?
Ava Maison, Junior at Lake Shore was able to voice her thoughts on the latest season. Maison said, "I thought the latest season that was posted was mystical and weird in some parts, but I really like John B and Sarah Cameron's relationship, so I rate it a 9/10. But, I think they should balance out on the mystical stuff though." 
She also shared her thoughts on the other 2 seasons compared to the latest, Maison said "Season 1, season 2, then season 3. I don't know, I think they're all good"
This season was very good but nothing is perfect, a lot of fans were really confused on why Sarah would cheat on John B especially when most of the show revolves around their relationship. Overall, it just does not make sense for Sarah to go back to Topper after all the things he did, there was no point for this event to be a part of the show, we think this was poor script/story writing. 
Nonetheless, we would give this season a 9.0/10.0.  All three of the seasons are all good but we would rank them in this order, Season 1, then, Season 3 and lastly, Season 2.