Foreign Friends: Shorians And Their Spanish Speaking Pen Pals
Connecting with and getting to know people from various different cultures and backgrounds is something that is greatly valued by the students in Mrs. Meldrum's Spanish III class.
In the past month, students in Spanish III have received letters from students at the Academy of Americas in Detroit. The student pen pals at the academy are fifth through eighth graders. 
Katie Kutney, a teacher at the Academy of Americas, who is connecting Spanish III Shorians with kids at the academy, is giving some information about the Academy of Americas. 
She said, "Academy of the Americas is a Detroit Public School that has a dual language immersion program. Our students have classes in Spanish and English, from pre-k until 12th grade. The goal is for all of our students to graduate being fully bilingual in Spanish and English."
Working in an environment like that is a very positive experience, and Kutney agreed by sharing some of her own personal highlights. 
"One of my favorite parts of the job is that I can help students who are new to the country. I am one of the first people they meet at the school, and I love being able to help them adjust to school in the United States, and just English in general."
Sophia Moyaert, sophomore, and a Lake Shore Student with a pen pal, is very happy to be participating. Her pen pal is a 12-year-old student. 
Moyaert said, "I am super excited to meet my pen pal, and I am a little nervous as well." 
The anticipation and nervousness of making a good impression are extremely valid, a common feeling amongst the class. However, those emotions are canceled out with the excitement of making and connecting with a new friend. 
Moyaert then said, "I love talking to someone new, and it's something I haven't done before." 
Meeting new people is always beneficial and fun to partake in. Especially when you are making friends with different backgrounds compared to your own. Not only are the students expanding their own knowledge of different cultures, but other people are also growing from this experience as well. 
Marissa White, junior, said, "My pen pal is in eighth grade and is one of the sweetest and friendliest people I have ever met. I am very excited to meet my new friend!"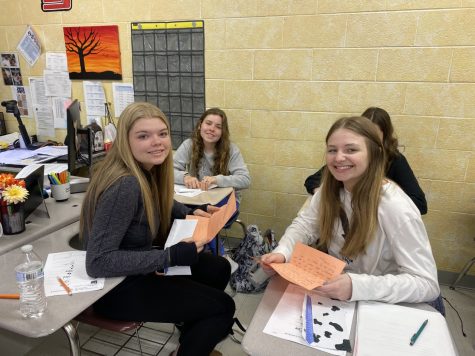 The program alone is massive. Along with that, the Academy of the Americas is considered one of the largest schools in the Detroit Public School District.
Kutney said, "We have 1,283 students from pre-k to 12th grade. Our numbers are consistently growing with students coming to us from a lot of different countries including Colombia, Venezuela, Guatemala, Mexico, Honduras, Dominican Republic, and more."
With so many students coming from various different countries, it is very important that everyone's heritage is valued within the classroom. 
"We try to incorporate our student's heritage into the classroom whenever possible. Especially in my ESL classroom, we have many opportunities to explore our student's diversity. I have maps posted and we always discuss where a student is from when they arrive. We also end up having a lot of conversations that come up naturally in discussing vocabulary variances between countries." 
Kutney also added, "We celebrate many cultural activities throughout the year as well."
This experience as a whole is such an uplifting experience, for the students at the academy, and our own students. Shorians who are learning Spanish are getting some of the best exposure to some of the realist Spanish dialects. The students at the academy are getting the opportunity to experience life in a different way than they ever have before and make new friends along the way.