It is officially spooky season and it's time for Halloween traditions including carving pumpkins, getting dressed up in a costume and visiting Haunted Houses. If you're like me, you have always loved doing fun Halloween activities. North Lake High School decided to create a tradition by holding its second annual Fright Night on Friday, October 20 from 6:30-9:30 PM located at North Lake School. 
This year's theme was called "The Escape". For a small entry fee of $5, you were sure to have a frightfully good time! I personally enjoyed it and there were many great things about it. 
Haunted houses, like North Lake's "The Escape", can be too scary for some people so there was a parental warning concerning kids under 14 years old. 
Just walking up to the school gave a glimpse of what participants were in for! There was a smoke machine and sounds of a chain saw. People were even running for their lives screaming as they ran from the exit doors. 
I began to question my decision to actually go in! The flashing lights upon entering didn't help me see the walk I was walking into, and it would make anyone's heart start beating faster.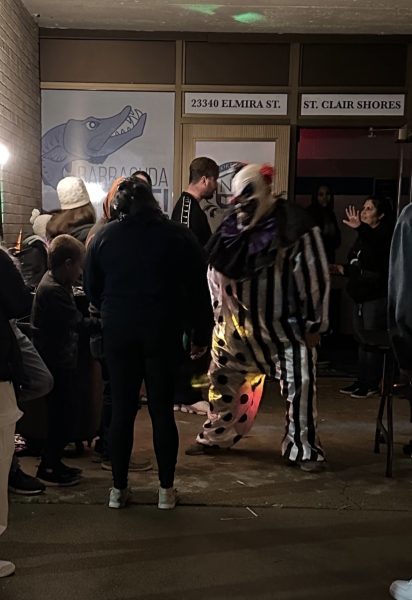 In the dimness, I could see what looked like blood, fluorescent drips and a corn maze. Then there were the live scary clowns and creepy dolls which scared you without warning. 
I really enjoyed the whole experience. I wanted to know what others thought.
I asked a patron named Leiah Shonra what she thought was the best part of going through it and she said, "I really liked the corn maze because it was really scary, and I was really scared."
I wanted to get an adult's opinion on it too, so I asked Crystal Laflure and she said, "It was really fun actually and watching my husband's reaction was funnier."
If you could stomach what you had just gone through, there were refreshments at reasonable  prices to buy and enjoy.
Overall, the whole experience was phenomenal! The students did an amazing job. I cannot wait for next year's North Lake Fright Night, so that I can be frightened again!