Becoming: Michelle Obama's Story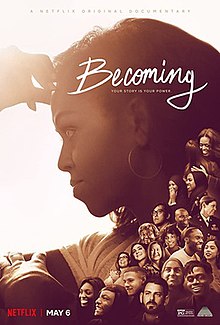 A new Netflix documentary about former First Lady Michelle Obama, Becoming, gives an inside look at her life and experiences she had while touring after the release of her memoir.  
The documentary film, Becoming, directed by Nadia Hallgren follows Michelle Obama on her 34- city book tour after the release of her 2018 memoir that is also the same name as this film. The book is a personal narrative that dives deep into moments, memories, and experiences that shaped Obama into the strong woman she is today. Everything she has experienced and learned through her journey is still even helping her as she moves on to her next phase in life. 
Throughout the film, Obama gives an intimate look at various times during her life which includes her upbringing, going to college, falling in love with former president Barack Obama, her daughters, and her eight years as first lady. Obama also talks about painful moments she experienced as the first lady which includes moments of prejudice and awful judgments from people all over the world. She also shares the tender and loving moments that she keeps close to her heart.
This film focuses mainly just on Obama as an individual rather than just her being the former first lady. It dives deeper into her story of growing up in a middle class family on Chicago's South Side, trying to find her way as a college student, becoming a lawyer, and then meeting Barack Obama. She also speaks about how she had herself and her career to the side for her husband's career and how that affected their partnership. Obama also talks about going into marriage counseling, enduring extreme criticism on not only things she said and done on the national stage but also on the pressure of having to be the "perfect" as America's first African American family.
Even though the documentary intentions were to educate us about Obama's life and the lessons that she learned along the way, the whole film itself gave the viewers remarkable advice and words of encouragement. One of the many encouraging quotes she said was during a conversation she was with a high school student and the student asked Obama "How did you, as a black woman, persevere through invisibility?" Obama's response to the student was explaining that she never felt invisible because her parents always made her feel visible. From that conversation her advice that she gave the student was "We can't afford to wait for the world to be equal, to start feeling seen. We're far from it. Time will not allow it. It's not going to happen with one president, one vote. So you have got to find the tools within yourself to feel visible and to use your voice." 
During another conversation with a group of high school students, an employee had told Obama some of the students asked why they were chosen to be a part of the seminar other than the students that are a part of some many activities at school, and have high SAT scores. Graduating senior, Elizabeth Cervantes, explains that she simply goes to school to do what she has to do,  stays for one club, and goes to work afterwards. Obama asked why she went to work. Cervantes explained that her father had an accident and can't work like he was able to before, so she felt that she had to step up and help provide for her family. Cervantes also adds that she has three little brothers, so she makes sure she does everything for them. Obama's response was "That story, with all the highs and lows, and what seems so ordinary, and what seems like nothing to you, is your power."  Those words alone were very encouraging because people with stories  like Cervantes or similar ones often feel because of their situations they can't get the same chances or opportunities like students who may not have to go through what they're going through and are well known students with high GPAs and SAT scores. 
Overall, this documentary was amazing and so inspiring. It's so captivating because you learn so much about not only Obama being the former first lady but so much of her even before meeting the former president. Her story definitely has inspired many people to make a change, and it will fortunately will continue to do so.