Reshaping Lake Shore: A Sneak Peak Into The Remodeling Of Our School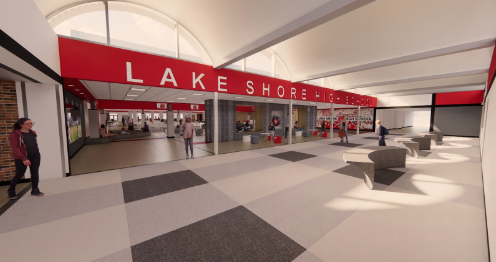 If you haven't heard (or seen), Lake Shore High School is getting some well-deserved upgrades! 
Thanks to community voters, our district received a generous amount of money in bonds in order to improve our schools. While all the schools in our district are utilizing the money for advancements, Lake Shore High School is taking big steps to improve our building. 
The renovations have already started, but the big renovations are kicking off on the evening of the last day of school. Everything is expected to be finished in 18-20 months, through the 2023-2024 school year Lake Shore will be under construction while students are in school.
It is very important that information about the upcoming remodeling process is discussed since it is our study body that will be majorly affected by these changes.
One of our school's leaders, Dr. Todd Stevens, assistant principal, has a lot of details to share about how our classrooms with be getting updated in the next school year. 
"In the classrooms, you will see new flooring, they're going to be doing all the painting and stuff like that. New lights, so it won't be the fluorescent lights anymore; it's going to be LED lights with dimmable switches and stuff like that," Dr. Stevens said.
Although Lake Shore will be getting the big remodel, all other schools in the district will also be getting new flooring, paint, and new lights.
Dr. Bross, high school principal, said, "The big signature part of this whole project is going to be the new commons area. We don't have a name for it yet, but we're working on it. This outdoor courtyard here outside my office is going to become an enclosed, indoor space, and this whole main office is going to become connected to the cafeteria. So, we're going to have this huge space here that's made into a student hangout, activity, and instructional area. So, there's going to be some really cool features we'll have there. You will be able to go into the counseling office and the school store from that new space."
The reason for closing the courtyard and opening up a new space for students is to make the school more modern. The amount of students with dual enrollment, hybrid, and virtual classes is increasing as well as the need for more space for students to be able to sit and do their work when they're not in a classroom.
"While this courtyard is lovely, having some outdoor space, it just doesn't get used to its maximum space impact, it's a really big area that if we enclose it, it can have a really positive impact on how we're able to do things here for our students," Dr. Bross said.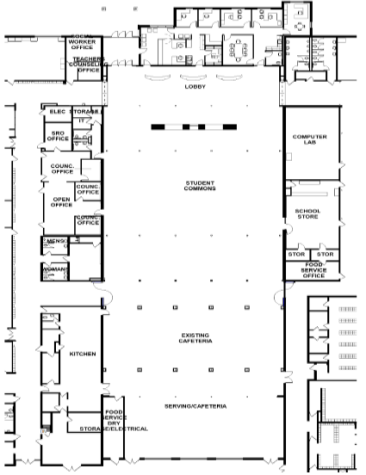 When most people think of a high school cafeteria, it's usually the same thing. A big room with a bunch of tables for people to sit. It usually has a boring, institutional look.
"We're getting out of the old-school look of the cafeteria, getting into a more modern, updated, more welcoming place for people to be. Rather than the really old-school cafeteria with the tables," Will Puvalowski, Dean of Students, said.
Barton Malow Builders Project Executive and LSHS graduate, Daryl Dombrow, gave a very important perspective on the work that will be done. He revealed many vital details that are interesting for staff and students alike to know about the future of our school. 
Dombrow started off by sharing some intel on how the design ideas came to fruition. 
"The district works with design professionals from a local architectural firm. That firm develops designs based on district feedback and refines it to meet the needs and goals of Lake Shore Public Schools," Dombrow said. 
With our school officials working closely together with design professionals, it can be assured that Lake Shore High School is going to improve greatly. 
Since some of the construction will be occurring during the 2023-2024 school year, it was a major inquiry to many about how construction would be operating during school hours.
Dombrow said, "Construction will be continuous at Lake Shore High School for the next two years. Work will be completed during normal school hours as well as at night and on the weekends. Barton Malow is the largest K-12 builder in the state so we are very accustomed to completing construction projects in occupied buildings. We work closely with the district and the contractors to develop projects and schedules that can be completed safely and efficiently without interrupting student learning." 
Overall, the new space being created can allow students to have a new place to hang out and enjoy. The renovations will allow the building to feel more open and spacious, allowing students to have more places to see their friends as well as study or do homework. The plan of how the school will be is exciting to see and it'll be refreshing to have the new space. Lake Shore High School will be fully revamped by 2025!