Behind The Scenes Of Being Behind The Scenes: Stage Crew
Most Shorians don't know what it takes to make a production run smoothly. Stage crew is a group of students behind the scenes that come together to help run a production in the auditorium. 
There are a ton of things that are needed to be done for productions like: sound (music, microphones, etc), lights (lighting the stage, spotlights, lighting up the audience, etc.), curtains (pulling different curtains to open and close the stage), and props/people (making sure they are in the right places during a drama club performance or making sure the people in the production are where they need to be as well as making sure everyone is quiet backstage so the audience doesn't hear anything). Also, being backstage you might have to move props out onto the stage during scene changes. 
Jimmy Sheen, sophomore, has been in stage crew since December of 2022 and says, "I can do just about anything, but my favorite thing to do is sound, but I can do lights too. Backstage managing isn't my favorite thing because there isn't much hands-on time, which running sound and lights provides, but I can do it if I need to."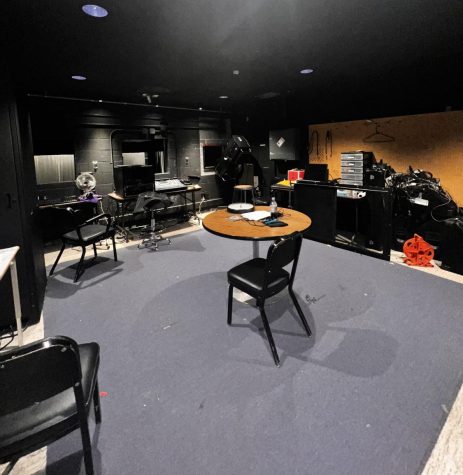 Most stage crew members know how to run most things when it comes to doing any production including: band and choir concerts, award ceremonies, the spring musical, drama club productions, etc.
Being in stage crew, you have to be available for events happening during school hours for rehearsals as well as after-school shows. 
Caitlyn Larson, sophomore, has been in stage crew for almost a full year. She said, "It gives me something to do in my free time and it helps me get out of the house more. It is also extremely fun because of the groups of people you're with." 
Being in stage crew, you meet a lot of people, whether it's the stage crew members, or the people that are in the production you are running. 
Different things are necessary for different events. For a band concert, stage crew will focus on sound and setting up the microphone for the band director and doing lights. Whereas for a choir concert, stage crew will need someone for sound, lights, and curtains. Plays and musicals need a lot of people for sound, lights, curtains, and a few people to hang around backstage to maintain the props and, really, just the people and making sure they are where they need to be. 
There are strict, but reasonable, rules to follow when you are a part of stage crew. No drinks or food backstage besides water (unless you're in the dressing room) as well as no food and drinks in the booth by the light and sound board.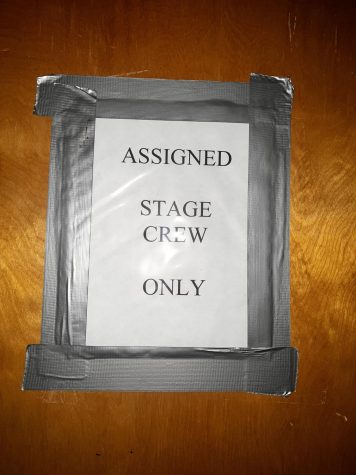 Next, no one is allowed in the booth besides the stage crew unless directed by Kelsey Elkins, choir and auditorium director. The reasoning behind this is to protect the expensive equipment that the stage crew uses and avoid distractions during a performance.
Jason Carr, junior, has been in stage crew for over a year. He said, "I work all around with lights, sound, and sometimes backstage. It's fun to listen to the music that gets performed." 
In stage crew, you need to be reliable. The show will not run as intended without the work that crew is responsible for. A member must also be able to listen and pay attention to cues in productions in order to change the lights, turn someone's microphone on or off and close or open the curtain. 
Without people in the stage crew, running a production is extremely difficult and it's always better to have extra hands. So, if you're interested in joining the crew and learning more about the technical side of productions, please contact Elkins at [email protected] and ask her more about how to join.