Tyler Comes To Detroit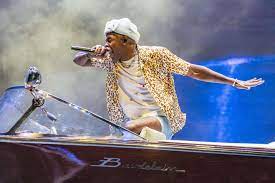 On Monday, February 28th Tyler the Creator came to the Little Caesars Arena for his Call Me If You Get Lost tour. 
Call Me If You Get Lost is the follow up to Tyler the Creator's 2019 Grammy winning album IGOR, which debuted at #1 on the Billboard Hot 200 chart, with 8 of the album's songs also charting on the Billboard Hot 100.
The performance began at 7:00 pm and lasted until almost 11:30. Not only did Tyler perform but the concert also starred Kali Uchis, Vince Staples, and Teezo Touchdown.
One Lakeshore student who attended the concert, Zachary Cardenas said, "I loved the other performers, I was not familiar with Teezo Touchdown but he was cool, Vince Staples is a rapper I really enjoy but I thought he played too many slow songs and Kali Uchis was just an ethereal experience she had me hypnotized the whole time"
Others who attended such as Macie Palacios said "I know of the first 2 people who performed but I. didn't know any songs so it wasn't very entertaining. BUT when Kali Uchis came on stage I lost it. She's such an incredible performer, she's amazing."
The night was filled with exciting light performances and crazy props such as a house, car, and even a boat. 
Cardenas says, "Best part of the concert was the theatrics he had, I loved how he had multiple sets and was able to move from one stage to another with the boat." 
Tyler is also known for interacting with his fans during concerts and being a very comedic person. 
Palacios states, "My favorite part of the concert is the way Tyler interacts with his fans, he's so funny and it was very entertaining"
If you ever get the chance to go to a Tyler the Creator performance, many would recommend experiencing his creativity and unique style.