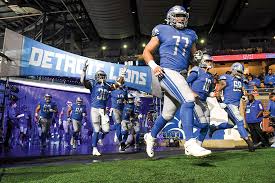 The Detroit Lions are loved by many Shorians even though they have been rather disappointing as an NFL franchise. 
It is always a hot topic talking about how the Lions are going to do this year.
Dante Messina, senior, said, "Average like they did last year, not going to the Super Bowl like everyone thinks."
Last year, the Lions finished with a nine and seven record, which in some cases would be enough to make the playoffs, but in the end, it wasn't. So, Messina expects more of the same from the lions.
Ethan Poxon, senior, said, they will "win the NFC North and make the playoffs."
After beating the Green Bay Packers last year, the Detroit Lions finished second in the race for the NFC North leaving the Minnesota Vikings in first. Poxon believes that the Lions have what it takes to win the NFC North and make the playoffs.
The Lions are a team with young talent and potential superstars such as Aidan Hutchinson and Amon-Ra St. Brown. Here are some of the Shorians favorite Lions.
Ayden Heuer, senior, said, "Amon-Ra St. Brown because I believe he is our most talented player and will be the player of the future."
St. Brown had a strong season last year with 106 receptions, 1,161 receiving yards and six touchdowns. With the performances St. Brown has had, Heuer believes that he is the next big thing for Detroit.
Camden Thibealt, sophomore, said, "Penei Sewell because I'm trying to be like him."
Sewell is an offensive lineman and another rising star for the Lions. He is young but very skilled, so it isn't hard to believe that he is a role model to other football players.
It is true that the Lions haven't won a Super Bowl and it is sometimes hard to believe if they will ever win one. Here are some predictions of when the Lions will win a Super Bowl.
Keith Reeves, senior, said, "Within the next few years for sure, the team's got a bright future ahead of them."
The Lions are a team that doesn't have a lot of big names besides Amon-Ra St.Brown, but that doesn't mean they're not skilled. Reeves believes with time the team could develop into a Super Bowl caliber team.
This 2023 season is a very important season in becoming a top team in the NFL, if the Lions don't do as good as they should it could send them back in the journey of winning a Super Bowl. Regardless of how the Lions do this shows that the Shorians still support them.