In 2022, Lake Shore High School passed a bond in order to update the school and get new furniture for every single classroom. Students and teachers have varying opinions on the new furniture. 
Piper VanCoppenolle, junior, said, "It's alright; I feel like I'm going to fall out the big red ones all the time." 
VanCoppenolle prefers traditional desks and their sturdy structure. 
Jacqueline Phillips, the math teacher, said, "I liked it at first until people actually sat in it, and I have 30 kids in a class and don't really fit."
She continued to talk about if we would ever go back to traditional seating. She said, "No, absolutely not. They spent a lot of money on this through the bond they won't just get rid of it." 
Phillips seems to prefer the traditional desk and chairs better. 
Shayne Trail, math teacher, said, "I really enjoy it. I got the desk that goes up and down. It has been really helpful health-wise and things like that, so I'm not sitting quite often as much. I'm standing a lot more, not that I was sitting all the time, but I'm more active now." 
Trail seems to have had a good experience with the new furniture, and he wants to keep it. 
Emily Krogulec, junior, thinks the new furniture is similar to th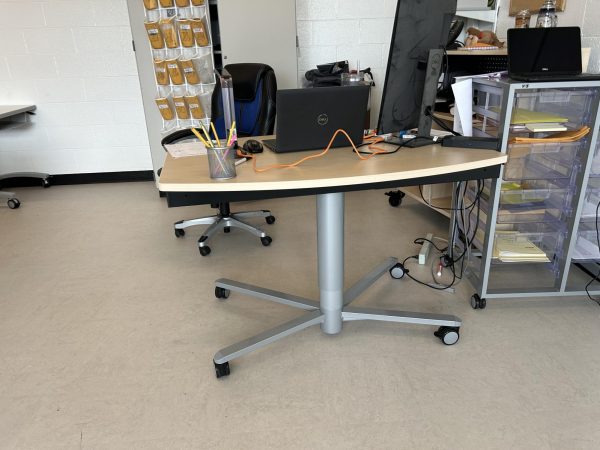 e previous setup. She said,  "No, it's kinda old school."
Krogulec seems to have a very iffy perspective on this furniture. 
Jersey Broughton, junior, said, "I like the tables definitely more."  
Broughton likes tables more than desks. The tables are a more welcoming environment and bring classmates together. Tables help you socially as a person and can help you make new friends. 
Brook Atkinson, junior, said, "No, the red ones tip you forward, and you can't sit."
Atkinson wants more efficient seating where she doesn't have to feel like you're going to slip right out of the chair. She wants to feel more secure while sitting in the chair.