Lake Shore Spring Choir Concert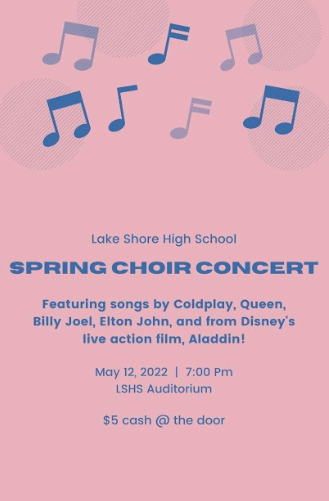 On May 12th Lake Shore's choirs returned to the auditorium for the first time since the pandemic and performed their Spring Concert.
Shorian choir member, Charlie Roberts, explained, "My favorite part of the concert was just being able to perform for everyone and have an actual concert in our auditorium finally!"
All Lake Shore High School choirs performed, including Fusion, Chamber, Treble, and Concert Choir, singing a variety of different songs.
Maya White says," I loved the song selection and how we got to harmonize with each other in the songs."
Macie Palacios adds, "I think the songs were really fun because of how well known the songs are, so it was easy for the audience to get into it." 
As the choirs have done for years, they wore their traditional black dresses or clothing to the concert. 
Eric Dubiel, a Fusion choir student, states, "The concert was great, the only thing I would have changed is the costuming to be something more like spring instead of the black outfits." 
Charlie Roberts adds, "To be honest I don't know what I would have done differently; I think it was great how it was!"