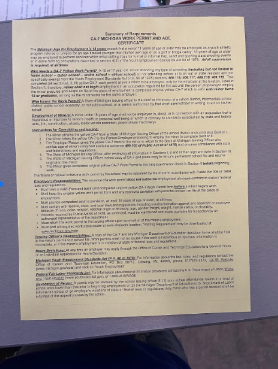 According to Michigan's Department of Technology, Management & Budget, the amount of teenagers ages 16-19 joining the workforce has drastically plummeted since 2008 from 614,000 to just 239,000. The question is: why?
Blair Garipey, Hall monitor, said "Honestly, I think there are a lot of opportunities after Covid. You can get paid without working and get unemployed because it's probably more money than a minimum wage job."
Garipey thinks you can get a job anywhere but people seem to prefer unemployment better. 
Jersey Broughton, Junior, said, "School does bother with a job because you can only work certain hours and some places aren't looking for that." 
Broughton wants people to get a job but says it's hard because of school. 
Carter Bondy, freshman, said, "I don't think people don't want to work anymore because they feel like money should be handed to them, and they don't want to work for the money they just want to get paid for not doing anything." 
Bondy thinks people should work but are just too lazy to get up and get a job.
Grace Hanke, senior, said, "I think that most people are very busy with sports and school and also think minimum wage isn't enough" 
She continued, "I think mostly it's just the time and the manner of a mental and healthy life."
Hanke makes a point that some people have a busy life on top of school and can't work because they have to maintain their mental state. 
James Taylor, junior, said, "Yeah it's fine, money is money."
Taylor claims everybody should work for what the world gives if they want money. Also saying if you're in school it will always interfere with life. 
He continued, "Yeah a little bit school is going to be school it's going to be here all the time."
Minimum wage is more discouraging to teens because of how expensive things are nowadays. Unfortunately, their money can only get them so far and they have less time in their days.