Aaron's Top 5 Bingeable Netflix Movies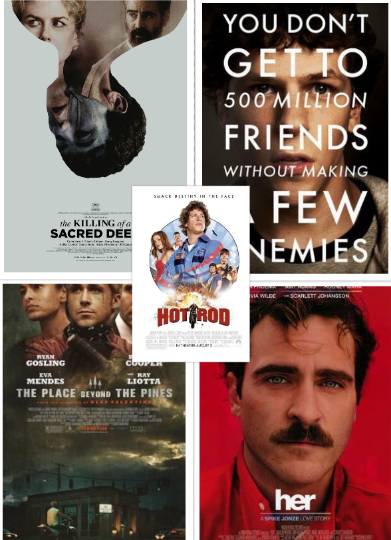 As Covid-19 altered our lives and temporarily forced us in our homes, we've been using our streaming services a lot more frequently. Sooner then later we can't tell what would be good to watch and end up rewatching a show again and again. The Office fans would understand that scenario. As I was browsing through Netflix with some of my family, I discovered they would end up skipping movies that are worth watching! I've decided to sit down and list off the top 5 movies on netflix that I believe are worthy of your time and consideration. 
The Killing of a Sacred Deer

(2017): Drama, Horror, and Mystery
The IMDb description of this movie reads,
 "Steven, a charismatic surgeon, is forced to make an unthinkable sacrifice after his life starts to fall apart, when the behavior of a teenage boy he has taken under his wing turns sinister."
The Killing of a Sacred Deer stars Colin Farrell, Barry Keoghan, Nichole Kidman, and many more. What makes this movie number one on my list is the world of this story is very unique and odd. The characters have a very specific set of dialects that makes you question is there something going on we don't know about? The movie does a great job building up what is ultimately in my opinion a shocking ending that you wouldn't expect at all once you start watching. I highly suggest this psychological horror movie to kill spare time!
         2. The Social Network (2010): Biography, Drama
The IMDb description of the movie reads, 
"As Harvard student Mark Zuckerberg creates the social networking site that would become known as Facebook, he is sued by the twins who claimed he stole their idea, and by the co-founder who was later squeezed out of the business."
The Social Network stars Jesse Eisenberg, Andrew Garfield, Rooney Mara, and many more. This movie displays electric performances from all the cast in a very well directed movie from David Fincher. The Social Network won 3 oscars, an oscar for best screenplay, best achievement in sound editing, and Best original score. The movie also racked up many oscar nominations such as best lead actor, best director, and many more. What makes this movie an incredible watch is the amazing story telling on display. It manages to hook you from the very start and keep you wondering what is going to happen next. I believe it's important people learn where social media came from and this movie shows how Facebook was made. Get off your social network and instead watch The Social Network! 
            3. The Place Beyond the Pines (2013): Crime, Drama, Thriller
The IMDb description of the movie reads, 
"A motorcycle stunt rider turns to robbing banks as a way to provide for his lover and their newborn child, a decision that puts him on a collision course with an ambitious rookie cop navigating a department ruled by a corrupt detective."
The Place Beyond the Pines stars Ryan Gosling, Bradley Cooper, Eva Mendes, and many more. This 2 hour and 20 minute movie is one of the best stories I've seen in a long time. It feels as if 2 movies were combined into one as the climax sparks a new story that keeps the movie going. The acting is very stunning by this all star cast and makes you wish the story could just keep going. This is a very worthy movie of your time, it would be ludicrous to pass up such a great story like this!
             4. Her (2014): Drama, Romance, Sci-FI
The IMDb description of the movie reads, 
"In a near future, a lonely writer develops an unlikely relationship with an operating system designed to meet his every need."
Her stars Joaquin Phoenix, Scarlett Johansson, Chris Pratt, and many more. With the Best Actor Oscar award going to Joaquin Phoenix for his amazing performance in the critically acclaimed movie Joker, Phoenix has some very memorable performances including his role in Her. Phoenix is a one man show in this movie as we watch him fall in love with an AI voice. His incredible acting skills are displayed well as well as an extra push from some amazing castmates that show up periodically. This movie was also shot beautifully. In the world we live in, some people are probably falling in love with their siri for all you know!
          5. Hot Rod (2007): Comedy, Sport
The IMDb description of the movie reads,
"Self-proclaimed stuntman Rod Kimble is preparing for the jump of his life – to clear fifteen buses to raise money for his abusive stepfather Frank's life-saving heart operation."
Hot Rod stars Andy Samberg, Jorma Taccone, Bill Hader, and many more. This movie has always been my to go movie for a comedic relief. With the world we live in right now. I believe this raunchy comedy is worth the watch to ensure a good time. The story follows a motorcyclist stunt man trying to become famous and you witness hilarious failures. This isn't a movie to be taken seriously but only to be taken with a grain of salt. They say laughter is the best medicine, thus watching Hot Rod will shower you with laughter!
The journalists at the Shoreline understand how bizarre our lives are right now and hope that our work brings the viewers intriguing news as well as entertainment! These are my top 5 picks of movies that are binge worthy! Thank you for your time and consideration. Stay safe and happy streaming!