Peek This: New Esports Club And Gaming Room!
With the effort of three staff members, Lake Shore High School now has an Esports club, accompanied by a new gaming room. The coaches are staff members Shayne Trail, Gabe Cerrasco, and Sam Holloway. Each coach advises certain games pertaining to their own experience. The gaming room, located in room 131, features a plethora of gaming devices such as four Nintendo Switches, two Playstation 4's, and ten gaming computers with their own peripherals. 
The coaches have been gaming since they were young, Trail cited some points in life when he and his friends would have LAN parties at someone's house and just have fun, and that feeling becomes nostalgic to him at Esports club. Cerrasco said, "I've been playing games since I was a kid, like 10 years ago, and I first started playing on a Playstation 2."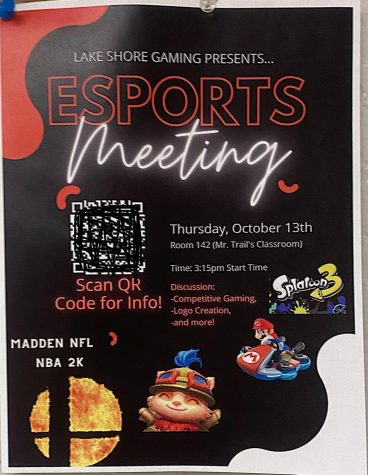 The games that are included in the Esports club are Rocket League, Overwatch, Valorant, League of Legends, and more. Currently, there are about 55 students participating in the entire club, and each game has a substantial amount of members.
Esports can be described as, according to Trail, "Competitive gaming." Esports is able to take online gaming and tie it in with a sense of sportsmanship on a team with your peers in order to simply have fun and possibly win. In Lake Shore's club, participants can choose to either play competitively against other high school teams or play casually, which is something never seen before at Lake Shore.
Each coach truly emphasized the importance of bringing people together of all different backgrounds. At meetings, you can see how everybody is completely different; yet, everyone comes together in order to have fun. 
As for how games will work for this club, it depends on what game is being played, not all games are played through the same technology. Some games are third-party games where they don't have another platform that's hosting the event.
Games will be pretty frequent and will be able to view via live stream with commentators, etc., but this is not something that is set in stone. From Trail's understanding, he says, "The games that are played through PlayVS. It's one game a week which is either Tuesday through Thursday, and there are two seasons so they're looking to be year-round. Other days will be practice days and then further than that, we have the opportunity since we're all online, to also come together from home and do things as well." Therefore, Shorians will be able to participate in the club without being present at school.
It is very surprising what this club has to offer. The ability to turn a room into a very expansive gaming room is something that is not expected at Lake Shore, however, it was made possible due to some funding. The money was obtained from general funds, there was already some money set aside for an Esports club because it was something Lake Shore had been trying to run for a few years now. In the future, the club is looking at sponsorships from local establishments, as well as finding jerseys and more unique Shorian Esports equipment. It was also mentioned that they are going to be looking into fundraisers and things like that to be able to put funds towards merch for the club and gaming equipment.  
The gaming room was created for security reasons. Trail says, "Initially we were thinking of using the media center, but seeing as the difficulty of security and managing all the equipment, it came to us having to secure everything every day and lock it up and that's a long process … So, we went to administration (Dr. Bross and Dr. Stevens), and we got room 131. That's where we are now."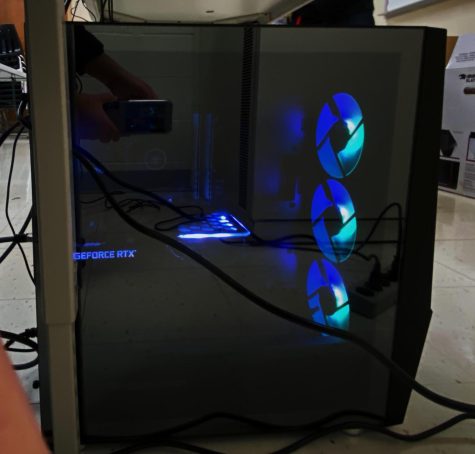 The "gaming room" actually consists of two rooms, one for the PC players and the other for the console players. However, these spaces can allow for much more creativity to flow. Trails offered other opportunities for Esports Club to advance, stating, "This isn't just competitive gaming, but we want to make it a good community right? So, we're looking to expand as far as not just gaming, but the dream would be to incorporate really any aspect, so broadcasting, video production, things like that will really ultimately make this a community culture, not just a Football program- no disrespect to Football."
Attendance will be seriously important to this club. There are no set meeting dates; however, this club is getting the ball rolling and will have planned meeting dates soon. "It's hard getting everything set up and you know there's a couple different factors there's, setting up all the equipment, there's the administration portion of it, so it's just a lot of work and there's only three of us managing our time, we have our own lives as well," says Holloway.
The Esports Club is an up-and-coming project that will soon blossom into a community of creativity and skill. There are no meeting dates set in stone, but it is important to continue to be on the lookout for future meetings. Esports Club is an opportunity for all kinds of students to come in, set aside their differences by coming together, playing a game that they can all enjoy, or even explore other things that Trail mentioned such as content creating and broadcasting. Thanks to the new gaming room, all of this is made possible in such a surreal reality.