Be Our Guest At Lake Shore High School's Musical 'Beauty And The Beast'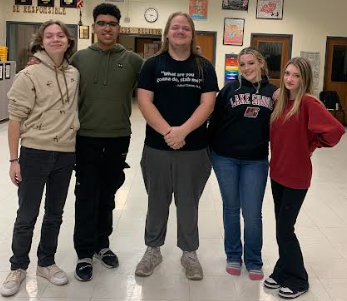 Looking for something to watch in May? Check out Lake Shore High School's 2023 musical production, Beauty and the Beast! After interviewing cast members from the production, it is clear that you won't want to miss out.
Dani Pryor, who plays the lead role of Belle, said, "I think it [the show] will go really well, our director has done this show multiple times so he knows what he is doing and he knows how to direct us. I think that we all have the ability to make it really cool."
Pryor, who is a senior this year, says that Belle is "a strong and independent woman. She is one of the first female feminists." 
She compares herself to Belle because she feels that she fits these characteristics.      
Pryor is looking forward to her new role saying, "I actually am very excited. It feels cool to be such a big part of the show, especially since I haven't done any musicals before."
Belle's love interest "The Beast," played by Cameron Salk, senior, also says, "I've never been in a musical before." 
Salk said, "I've always felt musical-conflicted with drama club, which I'm also a part of, so I never did it. But, this year, I heard what the musical was, and I was like, 'Alright. I'll do both.'" 
Although he had never been in a musical before, Salk says he is happy with his role and it was the only one he auditioned for.
Salk looks forward to working with Pryor. He said, "It's exciting and fun because me and Dani are like best friends. It's nice to have someone I know." 
Pryor shares the excitement for working with her cast mate. She said, "It's pretty cool working with him because we've been good friends for awhile now."
Charles Roberts, junior, who is playing Gaston, the villain of the story, said, "I am very excited to play Gaston. I don't feel nervous." 
Roberts sees similarities between himself and Gaston saying, "I think I fit my role perfectly." 
He went on to say that he finds Gaston "charming, talented, handsome, and perfect" and he can relate to these qualities.
Roberts shared a funny moment from rehearsal saying, "Dani slapped me."
He continues on to tell the story of them practicing this scene and how they couldn't stop laughing as Belle slaps Gaston across the face.
On stage couple, Lumiere and Babette, played by junior Eric Dubiel and senior Madison Swoveland look forward to working with each other
Dubiel said, "She's very cool, and I'm excited to work with her." 
Swoveland agrees with Dubiel as she recalls her favorite scene. She said, "We flirt back and forth for a few minutes and it's just a good time working together."
Dubiel is excited to play Lumiere because he feels like there are similar qualities between him and his character. He said, "Lumiere is funny and extroverted and I see these things in myself."
Swoveland is also excited for her part. She said, "yes, it's the second thing I auditioned for. I'm excited to bring this part to life."
The actors are excited to work with director Ray Filipek. They all believe that he will do an excellent job with the musical because of his casting and directing abilities. 
The Lake Shore High School Spring Musical is one that you won't want to miss. Between the actors, the director, and the musical itself, it's sure to be a good time.