Creed III Doesn't Disappoint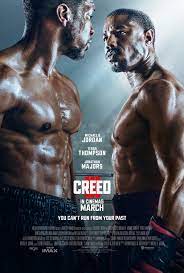 One of the most inspirational movies to be released this year is Creed III. Creed is one of the most successful spin-offs from Rocky. 
In this saga of the Creed franchise, Adonis Creed, played by Micheal B. Jordan, comes out of retirement to prove to a childhood friend that he is still the world boxing champion. 
Damian Anderson was Adonis Creed's best friend when they were younger. They both grew up in the same group home until Adonis was adopted by Mary Anne Creed, played by Lavelle Roby, and Apollo Creed, played by Carl Weathers until he died. 
During their childhood, Damian was the city champ of Crenshaw until he got arrested for possession of a firearm and was sent to prison for 18 years. As the years went on, Damian grew angry as he had to watch Adonis live out his dream. When he got out, the two tried to rekindle their friendship. Damian wanted to get back into the ring and did everything in his power to do so. 
An actor you may not have heard of is Johnathan Majors. Majors is a 33-year-old American Actor who has been making his mark in the entertainment industry. Majors has been in a lot of movies and shows, but he really became relevant in his more recent movies like Creed III, Ant-Man and Wasp Quantmania and Devotion. 
An actor that people are very familiar with is Micheal B Jordan. Jordan is a 36-year-old American actor who has been dominating his movie roles. He has been in hit movies such as Black Panther, Without Remorse, Just Mercy, Blackout, and many more. Jordan has been proving that he can take on any role no matter what. 
Tessa Thompson has also been in the movie industry for a while. Thompson is a 39-year-old American actress who you may be familiar with. Thompson has been in movies like Avengers: Endgame, Thor: Ragnarok, Men in Black: International and many more. She appeared in Creed as Jordan's wife who gave up her singing career to save what hearing she has left and to support her husband. 
A new actress that is making her name known is Mila Davis-Kent. Davis-Kent is a 10-year-old actress who you may have seen in The Resident and Sherri. Davis-Kent is hearing impaired so her fellow actors didn't just learn sign language for their roles, but they also did it so they were able to communicate with her without the translator on set.
Creed III has proven to be one of the most high-rated movies of the year bringing in 224.3 million globally. 
In my opinion, I would give the movie a 10/10. I loved how it incorporated sign language and a lot of the early struggles that Adonis Creed had to go through. As well as, how Bianca was there for her husband when he was struggling with his past and how hard Creed worked to prove to everyone that he is will the worldwide heavyweight boxing champion. Overall, I was very impressed with how the movie played out.