Super Mario Bros Review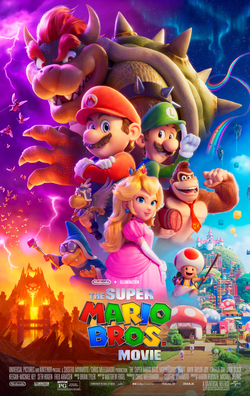 Coming back, better than ever, is the new Mario movie Super Mario Bros. The character Mario has gone from being an old-school game on Nintendo with over 30 games, to being one of the most popular PG movies. 
In Super Mario Bros, Princess Peach played by Anya Taylor- Joy, helps Mario, played by Chris Pratt, get ready to face-off against the powerful Bowser, played by Jack Black, to stop his plans from taking over the world and save his brother Luigi, played by Charlie Day. 
In an effort to save Brooklyn from a pipe burst, Mario and Luigi go on a hunt to find the water valve and end up getting sucked into an old warp pipe and Mario ends up in Mushroom Kingdom and Luigi gets pulled into the Dark Lands and captured by Boswer. 
Bowser is in love with Princess Peach and wants to marry her. He captures the star from the Snow Kingdom and intends to go to the Mushroom Kingdom to obtain Princess Peach's heart. When he was declined, he waged war on her kingdom. 
Sliding back through the warp pipe, Bowsario's ship made it to Brooklyn, Mario's hometown. Defeating Bowser, Mario and Luigi were able to save Brooklyn from Bowser. 
An actor who went from running from dinosaurs to being an animated character and bringing joy to children all over the world is Chris Pratt. Pratt has been in a lot of action movies playing characters like Peter Quill in Guardians of the Galaxy and Owen Grady in the Jurassic Park Series, to now playing Mario in the new mario movie. 
Another actor who went from playing our one and only Kung Fu Panda, to playing Bowser in the new Mario movie is Jack Black. Black has definitely made his mark in bringing joy to children all around the world with playing multiple cartoon characters like Po from Kung Fu Panda series, Lenny is Shark Tale and Zeke in Ice Age. 
Super Mario Bros was definitely a good movie. It brought comedy and romance to the movie. It also showed how brotherhood is a very powerful thing to have. No matter what was going on with Mario, he made sure to include Luigi and always protected him. If you haven't seen the Super Mario Bros movie, you should definitely put it on your watch list.