Kendrick Lamar, Igniting The Soul Of Black America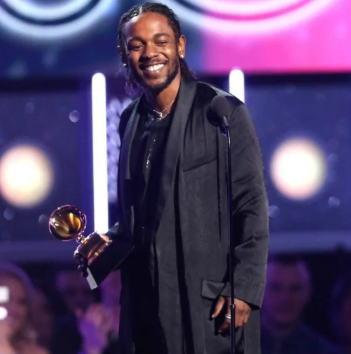 Within the last 10-15 years, it's possible to say that the sound of hip hop/rap has taken the world by storm. There have been artists that have made a name for themselves in the rap community, artists like J. Cole, Tyler, The Creator, Kanye West, Eminem, Lil Wayne, Drake, Young Thug and more have all made their own impact within their music. There is one artist that has made a more powerful impact than any other today, that artist is Kendrick Lamar whose biographical documentary is in the works.  
The Compton born lyricist has had a career full of incredible accomplishments. From winning BET awards, to winning 13 Grammy Awards, to producing the billion dollar film Black Panther, to being the first ever non-classical or jazz artist to win the Pulitzer Prize, the career that Lamar has had is nothing short of incredible. 
The cultural impact that he has had on today's generation is monumental, and it has inspired author Marcus J. Moore to write a biography about the groundbreaking artist. Set to be released on October 13, 2020,  The Butterfly Effect is a novel about the extraordinary, triumphant story of a modern lyrical prophet who has given hope to those buckling under the weight of system oppression. 
It has been long awaited for an autobiography to be released about Lamar. He practically deserves it. The man has continuously been making history time after time. Recently announced, his 4th studio album DAMN. has now surpassed 4 billion streams on Spotify. Especially when it happened during Black History Month, Lamar would showcase why he is an example of black excellence. 
It's incredible to see that Lamar has been such an incredible influence not just to people in the music industry, but to students at schools as well. Lake Shore student Grant Jones has shared his thoughts on how Lamar has been an inspiration to him. Jones went on to say, "Kendrick is a lyrical genius, and the way he attacks an instrumental is amazing. The way he can put our culture in his music without coming off forced is good, and it gives the black community a voice." Very remarkable statement by Jones, who is an upcoming artist himself by the name of BG Sting.  
Without a doubt, it is great to hear that an artist like Kendrick Lamar is getting a biography released about him. The career he has had is simply astonishing, and it is only a matter of time until we see what Pulitzer Kenny has in store for us in the proceeding future. 
The Butterfly Effect: How Kendrick Lamar Ignited The Soul Of Black America
Out on October 13, 2020.