Where's The Face Paint?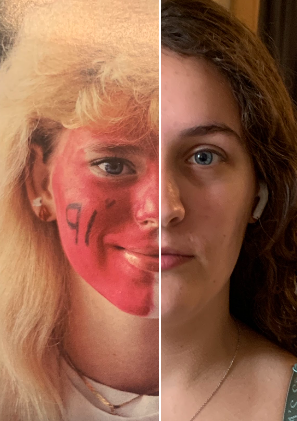 Throughout the years, school spirit has been a large part of the everyday lives of high schoolers. In recent years, there has been a decline in the involvement in school spirit. This leaves people wondering what this means for the school and if it is impacting students' perspective of high school.
In the past, Lake Shore hallways were filled with bright colors, face paint and spirit; everyone was supporting their school. Former student and beloved campus monitor, Leslie Houston, said, "We were all in the stands cheering." She continues on to explain that now students aren't as active and involved in going to games and events.
Former student and current English teacher, Chelsea Lebiecki, agrees with Houston. She said, "I always felt like Lake Shore had a lot of school spirit. My particular class was all super close and friendly. You guys are all super connected on social media which kind of disconnects you guys in school." Lebiecki continues on to say that, "You guys don't feel the need to come together in those ways."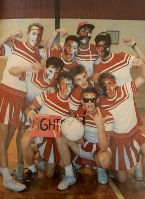 Seniors in the class of '91 show their pride with face paint and cheer uniforms.
School events used to be a social event for students to hangout and be connected. With social media, students can stay connected in other ways and might not feel the need to go to these games to see friends.  Although this may be part of the issue, there are other factors that contribute to the lack of spirit. 
As for dressing up for spirit days, Lebiecki says, "I remember whole classes coming together and dressing up to take photos.¨ She also said, "the spirit days now are really complicated and I'm not sure we would have liked that. Our spirit days were a lot simpler where everyone could participate."
Some of our more recent spirit days were "salad dressing day," "generation day," and "music day." Students found these to be complicated and hard to dress up for. In previous years they had easier days to dress up for including: "Neon Day," "Decades Day," and "Spirit Day."
Junior Emily Tolcer said, "Ours were uninspiring, weren't as fun as some other days, and kinda hard to come up with stuff to do."
Student Council advisor Robert Couck agrees with both Houston and Lebiecki. He said, "Some kids just think they are too cool to show school spirit or be silly because they do not want to be the odd man out."
Couck feels like spirit could be better if people normalize it. He said, "In the past, the seniors really led the charge of showing the underclassmen it was fun, okay, and cool to have school spirit and not to take themselves so seriously on Spirit Days and just enjoy the silliness of it."
School spirit is also monitored in clubs and teams. Lebiecki said, "I think participation in sports, clubs, and school spirit events has dipped too."
This is proven when looking at the teams. In 2009, 30 girls were on the swim team here at Lake Shore. In 2022, that number dropped to seven girls. This year, three girls. In 2009, 14 people ran cross country. In 2022, only seven people ran.
This is even shown in powder puff. In 2023, only five juniors showed up to the powderpuff meeting. Not to mention, the lack of guys wanting to cheer for the game. In 2009, 15 guys cheered for just the juniors alone. In 2022, six guys cheered in total for the powerpuff game.
The number of clubs has dropped as well. In the past, Lake Shore had a gaming club, KEY Club, Geek Squad, JSA, Spanish Club, and so many other clubs that no longer exist.
Lake Shore has lost sports teams too. Lake Shore used to have a gymnastics team and a tennis team. Neither of those teams are at Lake Shore anymore.
Junior Class President Marissa White feels like these things can change students' perspectives on high school. She said, "It isn't as much fun as it could be if we all tried a little bit more."
Couck said, "School Spirit could definitely be better, but what is the magic answer, I don't know. Spirit comes from being proud of your school or hometown and if students are either not from the town of the school, or do not feel as if the school really is a place they are proud of, there is very little to force School Spirit."
So, the question is, are students not proud of their school?
Junior Lola Moody said, "in the middle of the year, everyone loses spirit. Some of the teachers even act like they don't want to be here." She continues on to say, "that makes it hard to be proud of your school."
So, what can we do to make it better? Couck says, "It all rests on the shoulders of the students to make events fun and exciting…you want bigger events and more input, join Student Congress, and show up to after-school games and activities. Most of all, realize that this is high school, you are supposed to be having fun, being silly, and don't worry, you have the rest of your life to be serious. Have fun while you can."