What to do While in Quarantine
As school is postponed and social distancing is advised, people are finding themselves overwhelmed with boredom due to being cooped up in their house. While this is going to be a difficult time for a multitude of reasons, self-isolating gives protection against COVID-19. With everyone modifying their lives to this current pandemic, finding activities to keep themselves busy can be a challenge. Below are some activities to do to keep you occupied following shelter-in-place regulations.
Get Creative
Time to channel your inner Bob Ross! Keep yourself occupied with fun crafts while you are confined to your house. Painting, drawing, and exploring different art mediums are perfect to practice with such an extended time. Go on to YouTube or Pinterest for inspiration and find tutorials you can follow. Try unique crafts like acrylic pouring or a chain string pull painting. Don't have access to art supplies? Then, perhaps you can learn to knit, sew, or embroider. Don't have materials for those things either? Then, create short stories on your Chromebook or paper.
Get Dressed Up
Just because you aren't going anywhere, does not mean you have to stay in pajamas all day. Getting ready can help you feel efficient and add a routine to your day. Have fun with it! Try some new makeup looks, hairstyles, and outfit combinations you wouldn't normally wear to school. In the end, you can always have a fun photoshoot.
Cook and Bake
Craving a certain food? Try making it yourself! Practicing cooking and baking are rewarding activities to do, resulting in a dish to eat at the end. If the food is not delicious, then at least you got to practice. Not to forget, this time is ideal to explore food substitutes in recipes since foods may be out at the grocery store. Websites such as Supercook and MyFridgeFood allow you to put in the ingredients you have at your house and will provide you recipes for what you have. 
Entertainment
Entertain yourself with starting a new TV series, playing video games, or reading. Not only can you entertain yourself with these activities, but your friends can also join in. Many video games allow you to play with friends and you can talk to them through a variety of different platforms or on FaceTime. With browser extensions such as Netflix Party, your friends and you can watch Netflix shows and movies at the same time. Prefer Hulu, Disney+, and other streaming platforms over Netflix? You can still watch shows with your friends through FaceTime watching on these platforms. 
Practice Self-Care
While this time is stressful, it is important you take care of yourself. Pamper yourself with facemasks and a consistent skincare routine. However, self-care is not only managing what's on the outside; it is also crucial to take care of your mental health. Step back, take some deep breaths, and relax by practicing meditation. Many wellness apps are available to guide you through meditation. 
Workout
Sitting in your house all day means you are moving less than you normally would. An excellent way to combat stress is to work out, which will benefit both your physical and mental health. Though shelter-in-place regulations are enforced, you are allowed to take a walk for exercise. If you decide you do not want to go on a walk by yourself, remember to continue practicing social distancing. Only go on a walk with the people you are currently self-quarantining with. Plenty of places are bringing the gym to you, through online live streams. Citizen Yoga, a Metro Detroit yoga studio, is offering free live Vimeo yoga classes. Additionally, Planet Fitness is offering free in-home workouts on Facebook live daily. On Daily Burn, you can get a 60-day free trial to work on weight training, cardio, yoga, pilates, meditation, strength training, and more. 
Clean
Well, guess it's time for spring cleaning! Use this time to tidy up around your house. You have more time than ever to go through your items, dust, clean your floors, decide whether or not to donate clothes you have not worn in years. If you are going to be restricted to your house, might as well make it look nice.
Reach Out
As everyone is going through different emotions, it is good to reach out to your loved ones to check in on them. Call, text, or FaceTime your friends and family to let them know they are not alone through this. The House Party App lets you play games while you are video chatting. Everyone is having their struggles, so it is a great concept for us to unite.
Get Virtual
With the help of modern technology, you can leave your house without actually leaving your house. Lots of singers are putting on live-stream concerts, to let you experience their music without putting yourself at risk. As the presidential election is coming up, candidates such as Bernie Sanders are hosting virtual rallies, therefore you can participate in politics from your bed. Tired of the same scenery? Take a virtual tour of the dozens of museums, aquariums, parks, college campuses, and tourist attractions that are currently holding them. 
Although these times are tough, we don't have to be miserable. There are a variety of ways to keep yourself entertained, you will simply have to explore what you enjoy doing. It may be burdensome at times to remain occupied, but we will make it through it together. Remember to keep taking care of yourself and practicing social distancing. 
Leave a Comment
About the Contributor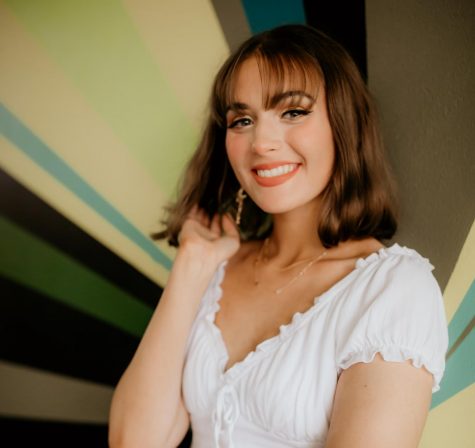 Lindsey Yucha, Senior Editor
I am Lindsey Yucha, a senior at Lake Shore High School and a second-year Early College of Macomb student. I plan to graduate from the Early College of...